Hardwood Refinishing
Solid hardwood floors are often an ideal choice for homeowners when purchasing or replacing their floors. One of the benefits of solid hardwood floors is that they can be refinished. Engineered hardwood can also be refinished, depending on the floor type. If your floors are scratched, worn, and dull from wear and tear, refinishing your floors is a great option to look into. Our professionals can give you advice on whether or not your floors are ready to be refinished.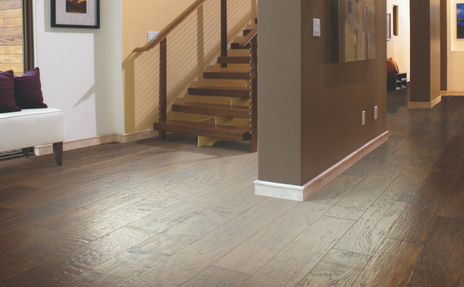 Types of Refinishing
There are two types of hardwood refinishing, buffing, and sanding and refinishing. Buffing is done when wear is only visible on the top layer of floor. This means that the surface finish is worn, but the floor underneath is in good shape. Buffing is a less invasive form of refinishing floors, and the finish applied after buffing can either be polyurethane, or a water-based finished. Each finish will make the wood underneath look different, so be sure to do research on what kind of look you prefer.
Sanding and refinishing hardwood floors is a much different process than buffing. First, the hardwood is sanded down with a large sander, which takes off the layers of finish and stain. In this step, the scratches are also sanded down. The floors are then cleaned, making sure there is no dirt or debris sitting on top. Stain is applied next, and requires that there be no weight applied to the floors. Last, a finish is applied, either water or oil based, which also requires many hours of drying. Sanding and refinishing hardwood floors requires experience and know-how. It is easy to damage floors using a sander or applying finish incorrectly. Our professionals can help you by refinishing your floors for you. All you'll have to do is choose the new stain and finish you want.
To learn more about hardwood refinishing, come by our showroom or give us a call!